So it's October already! The sun is setting earlier and rising later. We'll soon start to see the leaves falling if you haven't already. Soon the kids will be trick or treating and scaring the living daylights out of the neighbours the bonfires will soon be burning and fireworks will be lighting the sky, and between all this, you're hoping to move house.
This last year, eighteen months have been extraordinary, previously any slight economic jolt would unsettle the nerves, and people would take cover and delay buying and selling houses! However despite the biggest economic shock this country has seen outside of war we at Winchester Moving and Storage have and continue to experience the highest level of demand for our services in our history, especially with our Moving and Storage service.
Despite the drop-off of the stamp duty incentive we continue to see demand and for those home buyers, moving in the run-up to Christmas is the end goal – to be in and settled. December is always one of our busiest months and due to the pressures of Christmas on top of moving home nerves often begin to fray.
So, how are sales doing now stamp duty has resumed at its normal levels, how likely is it that the movers will be in before Christmas? Let's take a look at the data our friends at twentyci provide us with.
Despite stock levels at an all-time low, the property is selling quickly. On average it's currently taking just 19 days for properties to find a buyer and a transaction to begin. This is down from 42 days in 2019.
It's then the legal side of the transaction that is taking time. For properties that completed in September 2021, the average time in the UK for the sale to complete was 123 days – 17 weeks and 4 days. This compares to just over 13 weeks in 2019.
Therefore, property being listed on the market on the 1st October, you'll be looking at moving towards the end of February 2022. This varies throughout the UK with Inner London and Northern Ireland ranked the slowest regions with a median of 25 weeks. Scotland is the quickest region in the UK at just 13 weeks.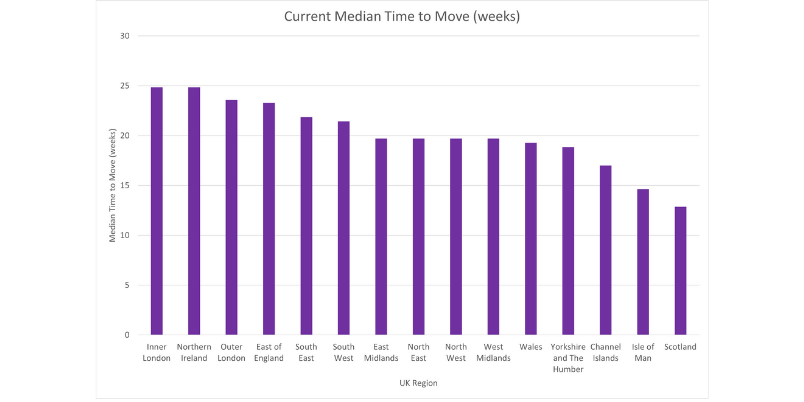 With an average of 123 days between a sale being agreed and completion, it means that any sale agreed after the middle of August will be struggling to complete before your turkey needs a good basting. The vast majority of sales agreed in September will not likely be completed until early in 2022. Please note, this will not be all transactions. This is based on averages. Some sales always proceed quicker than others, usually dependent on the length of chains amongst many other variables.
That's why it's important to start talking to us now, why give us a call here at Winchester Removals and Storage before life gets too busy book a quote with us now and let us take some of the stress away, by having your quote early you will be better placed to respond to your solicitor when dates start to be bandied about.
Call or click now for a no hassle free discussion and to arrange an appointment to discuss your removal and storage requirements.